News
Latest updates from the campaign:
Wednesday, November 11, 2020 10:24 AM
Phil Brock, native son and popular local reporter about town, used his name recognition and hometown knowledge to get the most votes. Christine Parra, head of emergency services in Culver City, won with the support of the Santa Monica Firefighters. Oscar de la Torre, a school board member, won with support of parents and former Santa Monica Mayor Bobby Shriver.

---
Friday, November 6, 2020 7:11 PM
Santa Monica residents who care about our residents will now be seated at the table of power! Congratulations to my running mates, Oscar de la Torre and Christine Parra.
---
Friday, November 6, 2020 7:07 PM
Phil Brock continues to lead all challengers as vote totals trickle in. He is elected!
---
Thursday, November 5, 2020 7:13 PM
Ahead after Thursday vote tally, Brock says "Residents now have a seat at the table."
---
Thursday, November 5, 2020 9:00 AM
Challengers continue to lead incumbents!
---
Wednesday, November 4, 2020 6:52 PM
Still Breathing (election results update)
I have been fielding everyone's well wishes and congratulations all day. I am humbled that so many have shown your confidence in my campaign for change by casting your ballot to return control of our city council to our residents, rather than developers. As of 4:45 PM November 4th, I maintain a narrow lead over the other candidates. I want to caution everyone that there are more ballots to be counted and the results may change. It has been indicated by the City Clerk that we may have a final vote count by Friday afternoon.
The Santa Monica City Clerk has issued the following update.
"I am providing you the current information I have received from the County after this afternoon's canvass. The most recent results can be viewed at www.smvote.org as well.
Ballots counted today Total ballots counted
City Council (both 4 and 2 year terms) 2,393 47,000
Here is Statement of Votes Cast is now posted on lavote.net website. Here is the direct link: https://lavote.net/docs/rrcc/svc/4193_SVC_Precinct_ZBC.pdf?v=3.
All precincts are reporting.
Current voter registration 71,970 citywide, 83,873 vote registration for SMMUSD, and 83,804 for SMCC
LARR/CC will send us the list remaining vote by mail provisionals tomorrow. Canvas still set for Friday."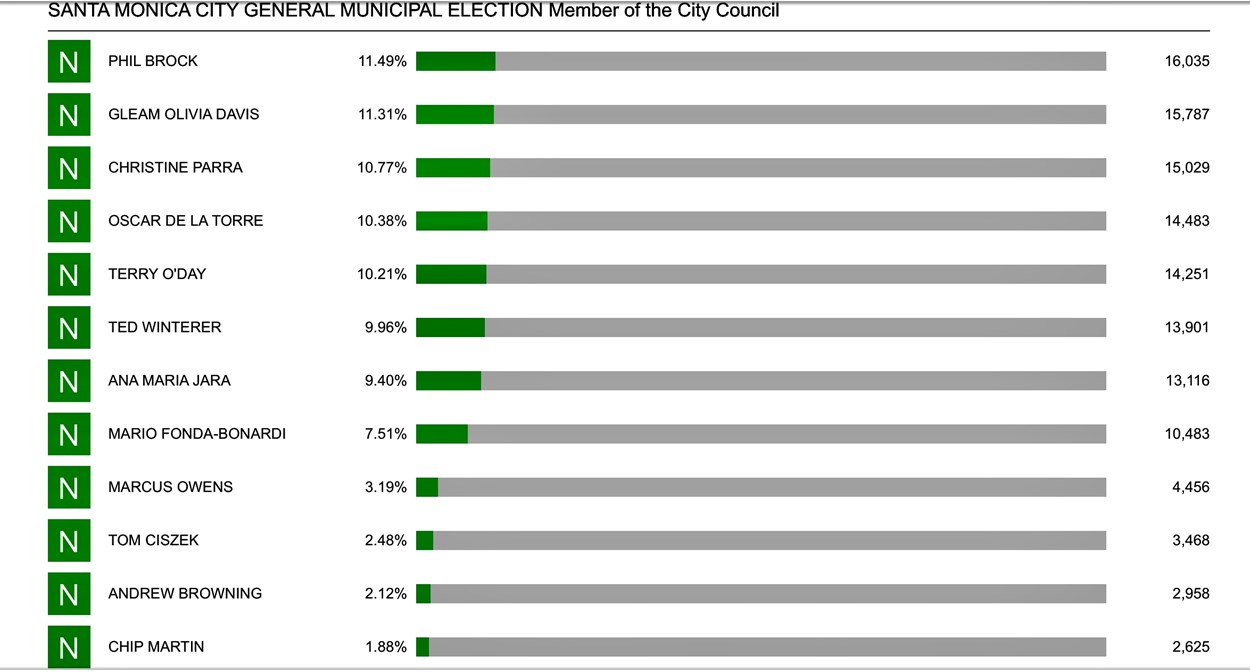 ---
Wednesday, November 4, 2020 6:00 PM
Council field holds steady. Brock continues to lead!
---
Wednesday, November 4, 2020 5:00 PM
Change Slate Maintains Lead.
---
Friday, October 23, 2020 10:19 PM
The Santa Monica Mirror issued a strong endorsement this morning for this team of four eminently qualified candidates for Santa Monica City Council. The Mirror endorses 𝑷𝒉𝒊𝒍 𝑩𝒓𝒐𝒄𝒌, 𝑪𝒉𝒓𝒊𝒔𝒕𝒊𝒏𝒆 𝑷𝒂𝒓𝒓𝒂, 𝑶𝒔𝒄𝒂𝒓 𝒅𝒆 𝒍𝒂 𝑻𝒐𝒓𝒓𝒆, 𝒂𝒏𝒅 𝑴𝒂𝒓𝒊𝒐 𝑭𝒐𝒏𝒅𝒂-𝑩𝒐𝒏𝒂𝒓𝒅𝒊 for the four open four-year seats on our City Council.
As a lifelong Santa Monica resident and editor of the Mirror, I am endorsing Phil Brock for Santa Monica City Council because the city needs new local perspectives and deeply invested members of the community willing to deviate from city staff policy recommendations. Groupthink–making decisions in a way that discourages difference–is not how government should be run and generally does not lead to the best decisions. This is why I am voting for Phil Brock. He is a lifelong Santa Monica resident who will be willing to vote against the status quo if the matter before them is not in the best interest of their constituents.
---
Friday, October 23, 2020 10:17 PM
After months of being stuck at home, many Americans know full well that there are three things they can't live without. Two of them are power and water. The third, I'm sure, will be obvious to all. Internet access.
---
Sunday, October 18, 2020 8:47 AM
Santa Monica Observer Endorsement
The Santa Monica Observer wrote a strong endorsement of my campaign for Santa Monica City Council this week. Read it here:

---
Tuesday, October 13, 2020 7:58 PM
Spurious Charges Against Santa Monica City Council Candidate Phil Brock
Here is my statement on this bogus charge. This is the third "hit" piece against me in eight days. Obviously the opposition is worried and unable to discuss policies that will help the residents of Santa Monica. Instead, they go after me, my significant other, and my mother. Disgraceful!
Once again, Joel Koury has filed a baseless complaint against me. Mr. Koury falsely alleges that I have failed to properly register my business with the City and that I am illegally utilizing a rent-controlled apartment. There is no basis for these complaints.
My 92-year-old mother owns the apartment building on 12th Street. She inherited this building from her mother, my grandmother. My mother has lived at this location for almost 75 years. I am at my apartment at the building daily – in part to care for my mother and in part to attend to my business which I conduct there. I pay rent to my mother for the apartment and have always done so.
My business, Studio Talent Group, has been licensed (#089332) by the City of Santa Monica as operating at this location for more than 20 years. I began using an apartment in my family's building when the apartment was vacant, so no tenant was displaced when I occupied the apartment for my own use. My business operates largely as a home office, consistent with laws governing such use in residential areas.
Mr. Koury also appears suspicious of the number of Phil Brock for Council signs at this location. Mr. Koury will have to take this issue up with my mother, who has them posted in her window.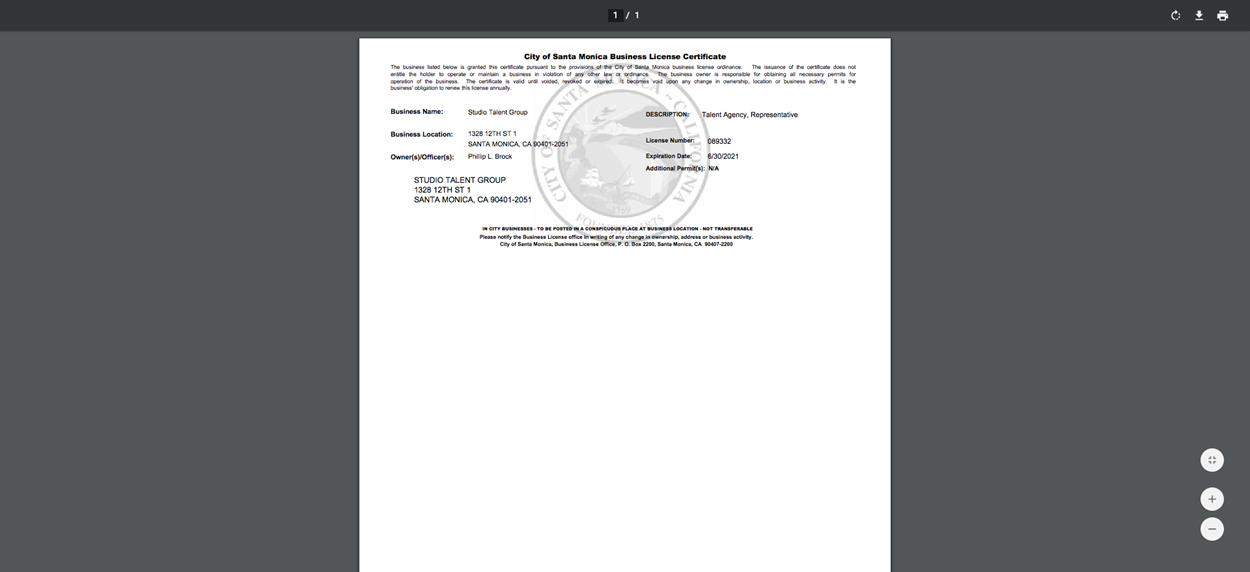 ---
Friday, October 2, 2020 8:23 AM
Los Angeles Magazine asked top local architects for bold solutions to L.A.'s homeless crisis. Here's what they came up with.

---
Thursday, October 1, 2020 8:28 PM
This is my contract with each of you as I seek to become your Santa Monica City Council Person. Take a few minutes, read my pledge, and then volunteer, contribute, display a lawn sign, and above all VOTE!
---
Sunday, September 27, 2020 8:33 AM
The Santa Monica Conservancy posed three questions to City Council candidates. Here are the answers.

---
Saturday, September 26, 2020 11:00 PM
Anti-Semitic Caricature Used by Opponents of Michael Dell
There was an "attack" ad featuring a caricature of Michael Dell, owner of the Fairmont Miramar Hotel, in the Santa Monica Daily Press on Saturday, September 26th. It was placed by an anti Miramar Hotel group. I have seen the disgusting and reprehensible antisemitic image used in the hit piece and am utterly repelled by the tactics being used here. I oppose the Miramar Hotel project as currently configured (but am not opposed to a sensible remodel) but no matter one's position on the project, Santa Monica cannot be the venue for such public bigotry, and this has no place in our public (or private) discussions.

I join California State Assembly Member Richard Bloom's call for the backers of this ad to disavow it.

---
Friday, September 25, 2020 8:38 AM
Phil Brock has raised the most money out of any challenger with $14,425 in campaign donations. He is running on an anti-incumbent "change" slate for City Council.
---
Wednesday, September 23, 2020 9:00 PM
League of Women Voters Candidate Forum
The League of Women Voters of Santa Monica held a candidate forum on Wednesday, September 23rd via Zoom. Here's the video.

---
Wednesday, September 16, 2020 7:47 PM
Santa Monica is not rural but many students and seniors do not have affordable access to Broadband service in our town.
---
Wednesday, September 16, 2020 3:11 PM
Pandemics and concerns about health have a long history of shaping cities, particularly outdoor spaces like parks
---
Wednesday, September 16, 2020 8:11 AM
COVID-19 maintains a stranglehold on American life, ensuring that fall 2020 will be anything but normal. Pandemic restrictions have left our nation grappling with a severe economic recession alongside a growing mental health crisis. While there's no panacea for these problems, one simple step by Congress could help alleviate the pain: Passing federal legislation to make daylight saving time (DST) permanent.
---
Wednesday, September 16, 2020 7:47 AM
Climate change is real and the effects on on our descendants profound. Take a look at how heat, fires, and humidity will effect part of our country within fifty years.
---
Saturday, September 12, 2020 8:29 AM
I've called for free basic internet for all Santa Monicans and a municipal broadband utility. Here is an outstanding article on creating municipal broadband in our town and the reasons why we should take the plunge
---
Friday, September 11, 2020 7:16 PM
The SMart Group's Santa Monica City Council Endorsements. We enthusiastically endorse Phil Brock, Christine Parra, Oscar de la Torre, and Mario Fonda-Bonardi. These four deserve your support!

---
Thursday, September 10, 2020 4:17 PM
Public Safety is Suspect in Santa Monica!
In the Santa Monica Democratic Club debate on Wednesday, September 9, 2020, the five incumbents insisted there is very little crime in Santa Monica. Our city is the safest it has ever been, the five incumbents stated as a question about public safety was broached. We are much safer than we were twenty years ago, stated one councilperson. Another said that she felt safe walking around our parks at night. We are as safe as can be was the conclusion of the incumbents.
Listening to them on the virtual stage, you would feel that we are "lollipops and sunshine safe." However, I see things differently. Random assaults, robberies, burglaries, automobile parts thefts, bicycle thefts, and more are endemic in Santa Monica. Battery happens at regular intervals on our streets, and as you look at the crime statistics in our town, crime has skyrocketed over the past four years. Councilmember Davis accused me of "cherrypicking statistics" when I said that crime had risen.
All in all, the incumbents "pooh-poohed" the black and white statistics of high crime. Safewise published its latest statistical analysis of crime in our seaside city and noted that Santa Monica is the 227th safest city in California. We're just below San Francisco and slightly above Stockton and Oakland. Wouldn't we all prefer to be in the top 50 safest cities? Instead, Santa Monica is at the bottom! Here is the link to the results they published. https://www.safewise.com/blog/safest-cities-california/?fbclid=IwAR29dQ5N42nNJm84Za-K7oT78KMd1tmQl4tZEEK_fVmm3upOAF-Ryxlo8zo

It's hard to fight crime if you pretend there isn't any. Had enough? It's time for a change. BrockTheVote.org
---
Wednesday, September 9, 2020 8:20 AM
Blasting incumbents for ushering in "unsustainable growth" and pushing the City into "financial chaos," a prominent slow-growth group on Tuesday announced it will back three challengers in the race for four full-term Council seats.

---
Tuesday, September 8, 2020 9:25 PM
We need competent leadership who will work for Santa Monica's residents and small businesses, not for the special interests who contribute to Councilmembers' campaigns. We wholeheartedly ENDORSE Phil Brock for City Council who will go to work immediately for ALL Santa Monicans.
A native Santa Monican, Phil is a longtime entertainment industry executive who has an extensive history of active civic leadership in our City. He served as chair of our Recreation and Parks Commission and is a past president and current board member of the California Parks Board. Phil is a Santa Monica Arts commissioner, president of the Samohi Alumni Association, past president of the Santa Monica Kiwanis Club, Elks Lodge trustee and member of the Civic Auditorium Working Group. Phil is all about service to our community.
Phil believes we must protect our residential and commercial neighborhoods from huge developments that do not fit our City's beachside character. He is deeply concerned about gentrification that causes our seniors and our longstanding diverse population to lose their reasonably priced housing and be pushed out of our city. He advocates for height limits of four stories downtown, three stories on our boulevards and two stories in our residential neighborhoods. He believes that big, dense, development proposals must be voted on by residents.
---
Monday, September 7, 2020 6:53 PM
Where are the Investigations?
Simple questions must be answered. Our city suffered the worst afternoon and evening of our 145-year existence on Sunday, May 31, 2020. Ninety-Seven days have passed without an incident report from the Santa Monica Police Department. The city council voted reluctantly for an independent investigation but allotted too little money to perform a thorough review of the day's events.
Months later, in the dead of night, at the end of a City Council meeting, they admit the lack of funding has hampered the start of the independent investigation, and conveniently no investigation has begun.
It's "great" that the incumbents want to wait until after the election is over to release the long-delayed report but aren't they working for their own self-preservation rather than the good of the residents?
Had enough? It's time for a change! BrockTheVote.org
---
Monday, September 7, 2020 6:30 PM
Pandemic Mask Enforcement
Over a month ago, City Council Members said they would add "mask duty" to our code enforcement officers work load. There was a big one day show of ticketing mask scofflaws on Montana Avenue and Goose Egg Park, and then nothing. Of course we have ten code enforcement officers for the entire city who also have regular duties to perform. There was a discussion about the efforts of the South Bay cities who had hired private security forces and deputized them to write mask enforcement tickets.
In typical fashion, Santa Monica is still "considering" employing additional mask enforcement officers as Labor Day comes to a close. Once again, the City Council gets a big, fat "F". Lots of talk, no action. If you think this is the right course, vote for the incumbents who have failed miserably. If not, you know what to do. It's time for change! BrockTheVote.org
---
Friday, September 4, 2020 8:19 PM
Now is the time to Launch Real Reform of Our City's Financial Management!

---
Friday, September 4, 2020 8:14 PM
SM Mirror columnist Tom Elias weighs in on California's "housing" crisis. Market forces should be allowed to work out our housing imbalance without government intervention for the next few years.
---
Wednesday, August 26, 2020 9:00 AM
Phil stops by a Saturday morning neighborhood jazz concert in the north of montana area of Santa Monica on this episode of Brock on Your Block
---
Wednesday, August 26, 2020 8:57 AM
Two Santa Monica City Council candidates withdraw from race, throw support to Phil Brock
---
Wednesday, August 26, 2020 8:52 AM
As area shopping malls fail could they be turned into low-coat housing? After all, adaptively reusing existing buildings is the best way to be sustainable.
---
Tuesday, August 25, 2020 12:17 AM
Candidates Gomez and Browning withdraw from campaign, throw support to Phil Brock and election ticket
---
Saturday, August 22, 2020 3:47 PM
Our City's Future Is Slipping Out of Our Hands… Unless We Pay Attention
---
Saturday, August 22, 2020 3:13 PM
You can't spend time on the streets of any large city in California and not ask this question: Why do so many of our most vulnerable, severely mentally ill Californians not get the care they so urgently need? Read this op-ed.
---
Friday, August 21, 2020 10:16 PM
Brock, de la Torre, Parra, and Fonda-Bonardi team up to challenge incumbents
---
Tuesday, August 4, 2020 12:00 AM
On his daily long walks during the pandemic, Phil Brock finds wonderful settings his neighbors have created to delight all who pass by in the latest Brock on Your Block.
---
Friday, July 31, 2020 12:00 AM
A longtime resident, "We no longer have any sense of community, and we have lost our sense of being a seaside town." Read Phil Brock's op-Ed for SMart in the SM Mirror.
---
Thursday, July 23, 2020 12:00 AM
As our town became even denser, City Hall advocated for more. Keep piling people into our town. Who cares about quality of life? Small apartment units with huge rents led to increased gentrification and a less diverse population. Your town's wise owls fist-bumped as each new building choked our formerly sunny streets.
---
Thursday, July 16, 2020 12:00 AM
It was Santa Monica's 145th birthday on July 15th. Our city's traditional motto is "Fortunate People in a Fortunate Land." Yet it no longer feels that way. It is not even the pandemic's fault.
---
Friday, July 3, 2020 12:00 AM
Black Lives Matter can't be a catchword that fades as the news cycle moves on. It must stay front and center in every city, town, and village in America. I observed some lip service on the city council dais about change and our standard civic response, let's "study" the problem.
---
Friday, June 26, 2020 12:00 AM
Fight or flight. Those of you who are acquainted with me know which choice I have always made. However, It seems that many longtime residents are choosing flight. They have decided that the scourges of crime, overdevelopment, traffic, and a deteriorating lifestyle make it no longer worth the hassle of living in Santa Monica.
---
Friday, June 12, 2020 12:00 AM
The angst and anger of our community are still reverberating throughout Santa Monica. Everyone I have communicated with has a strong opinion about the events of Sunday, May 31st. The afternoon of looting was an "all-time low" for our city. The owners of Santa Monica Music Center called 911 seventeen times. The response, "You're on your own. If you own a registered firearm, you're welcome to guard your own business."
---
Friday, June 5, 2020 12:00 AM
Chaos, anguish, despair, and lawlessness gripped our city on Sunday. By Monday, anger, disbelief, and heartbreak were the words of choice. One Hundred Fifty-Five businesses had "significant" damage. Over Three Hundred Fifty reported some loss. Nine fires set. Citations issued to Four Hundred Thirty-Eight people. None spent a night in jail.here.
---
Friday, May 15, 2020 12:00 AM
We're still out here, kicking and screaming," a resident wrote to me, repeating her email to the Planning Commission about proposed changes to the city's zoning codes. The Santa Monica Coalition for a Livable City called the proposed changes "Ill-Conceived and Misguided." The leader of Northeast Neighbors stated, "We are offended by the use of the euphemism "streamlining" to silence the community about the future of downtown Santa Monica." here.
---
Friday, March 24, 2017 12:00 AM
---
Tuesday, March 7, 2017 12:00 AM
Brock On Your Block (Wow Oscar Gift Suite)
---
Wednesday, February 22, 2017 12:00 AM
---
Thursday, February 16, 2017 12:00 AM
---
Friday, February 10, 2017 12:00 AM
---
Thursday, February 2, 2017 12:00 AM
---
Friday, January 27, 2017 12:00 AM
---
Thursday, January 19, 2017 12:00 AM
---
Wednesday, January 18, 2017 12:00 AM
---
Friday, January 13, 2017 12:00 AM
---
Wednesday, January 11, 2017 12:00 AM
---
Friday, January 6, 2017 12:00 AM
---
Thursday, January 5, 2017 12:00 AM
---
Wednesday, December 21, 2016 12:00 AM
---
Wednesday, December 14, 2016 12:00 AM
---
Tuesday, December 13, 2016 12:00 AM
---
Thursday, December 1, 2016 12:00 AM
---
Friday, November 18, 2016 12:00 AM
---
Saturday, October 29, 2016 12:00 AM
---
Saturday, October 29, 2016 12:00 AM
---
Friday, October 28, 2016 12:00 AM
---
Friday, October 28, 2016 12:00 AM
---
Tuesday, October 25, 2016 12:00 AM
---
Friday, October 21, 2016 12:00 AM
---
Thursday, October 20, 2016 12:00 AM
---
Wednesday, October 19, 2016 12:00 AM
---
Wednesday, October 19, 2016 12:00 AM
---
Wednesday, October 19, 2016 12:00 AM
---
Saturday, October 15, 2016 12:00 AM
Brock On Your Block (Florence Kiney)
---
Friday, October 7, 2016 12:00 AM
---
Friday, September 30, 2016 12:00 AM
---
Thursday, September 29, 2016 12:00 AM
---
Thursday, September 15, 2016 12:00 AM
---
Friday, September 9, 2016 12:00 AM
---
Monday, September 5, 2016 12:00 AM
---
Wednesday, August 31, 2016 12:00 AM
---
Wednesday, August 31, 2016 12:00 AM
---
Friday, August 26, 2016 12:00 AM
---
Thursday, August 18, 2016 12:00 AM
---
Thursday, August 18, 2016 12:00 AM
---
Friday, August 12, 2016 12:00 AM
---
Thursday, August 11, 2016 12:00 AM
---
Thursday, August 4, 2016 12:00 AM
---
Thursday, July 28, 2016 12:00 AM
---
Friday, July 22, 2016 12:00 AM
---
Thursday, July 21, 2016 12:00 AM
---
Thursday, July 21, 2016 12:00 AM
---
Friday, July 15, 2016 12:00 AM
---
Sunday, July 10, 2016 12:00 AM
---
Saturday, July 2, 2016 12:00 AM
---
Friday, July 1, 2016 12:00 AM
---
Wednesday, June 22, 2016 12:00 AM
---
Thursday, June 16, 2016 12:00 AM